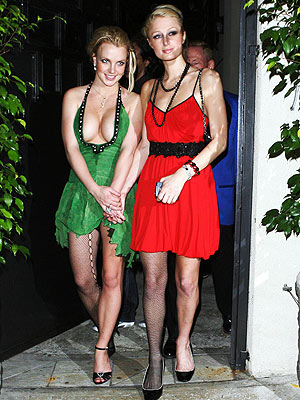 I know this picture is way outdated, but it was brought to my attention, and I feel it is to terrible not to fix. So, today I am going to tackle Britney, then in the next post, I will talk about Paris. 
First Alteration: Obviously, the neckline. Honey, that looks both painful and unflattering. The lowest that top should end at about the same area her tan line ends, and no lower.
Second Alteration: Unless your dress was actually eaten by a paper shredder, it shouldn't look like it was. Let's just even off the hem line and bring it down to above the knee.
Third Alteration: Lose the tacky trim around the neckline. This is before Circus, remember? this is way back in 2007, before you had a breakdown or a recovery.  So no need to look like you are in the center ring.
Fourth Alteration: A single stocking? Please no. 
Fifth Alteration: What's with the funny bright yellow thing sticking out from your head? It should probably go on extended leave too.
Sixth Alteration: Maybe you should be wearing different shoes. A sexy nude heel would be gorgeous.
And there you have it, part one of this fix up job. Check back soon to find out how I renovate Paris's outfit!
Love, Rosie