It's been a while since I talked about Runway Fashion, so I thought that I would dip my toes into the abyss that is designer clothing. This time I have selected my favorite pieces from the Valentino Fall 2009 Ready to Wear collection.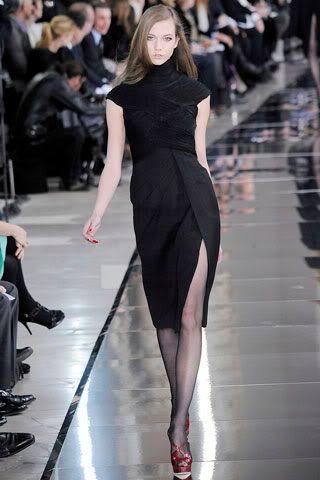 I really, really like this look. The pleated dress is somewhat complex, but because of the matte finish and the fact that it's black, it's understated. Paired with the dark stockings and red shoes, well, I love it!
This is another dress I love, because I find the colour beautiful, and the pattern fascinating. I don't think I could wear it like that, but if the bodice were a bit more fitted, it would be perfection in a dress.
The final dress that caught my eye is this beauty. Again, I think the bodice could be more fitted, but I am so in love with the pleating layered thing on the bodice that I don't really care. I would also make it a boat neck, but other wise, I adore!
Thoughts? Requests?
Love, Rosie
(PS: Remember that this is a scheduled post, and while I will eventually reply to any comments or questions, it might take a while.)
Thoughts? Requests?
Love, Rosie