Dress, Suzy Sheir; Ears, handmade by me, shoes, Indigo by Clark. I wore this yesterday while visiting with a bunch of friends, one of whom drove two hours to come see us. I would have posted this yesterday, but I forgot to put the batteries in my camera, my friend Fin took my pictures, and since he is awesome and edited them for me, I got them this morning.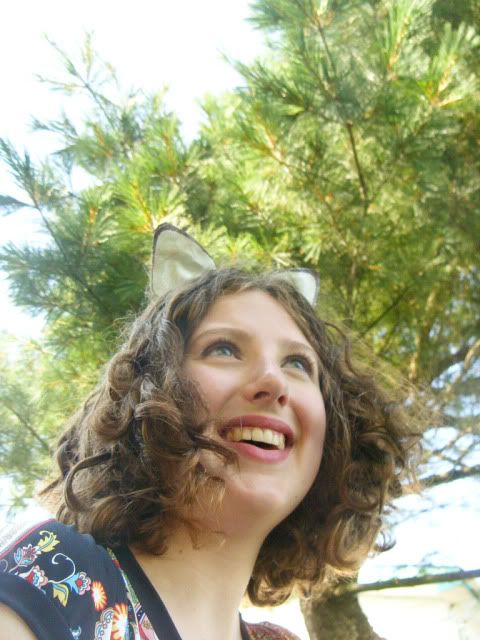 I got a call from my friend Fin, who was coming to visit, just as I stepped out of the tub after shaving, asking if it was all right if he showed up early. That was awesome, but left me with approximately four minutes to get dressed and get my make up done, hence the lighter than usual eyeliner. Thankfully, my outfit was already completely planned, so I didn't have to worry about that!
I have deemed this dress my lucky dress, since it is the perfect dress: flattering, and it makes me feel incredibly awesome. Plus, it seems to be a very lucky dress.
I, well I should say we, got some strange looks today, since here was me in ears, a dress, and heels, and Fin was wearing his awesome ripped, painted jeans and a skin tight wife beater (he is one of the very few guys in the world who can get away with this, since he is thin but not weedy.) Anyways, we were quite the pair when we went down to the market in the morning, and towered over most of the people there, seeing as I am 6 feet in my heels, and he is taller than me.
Thoughts? Requests?
Love, Rosie