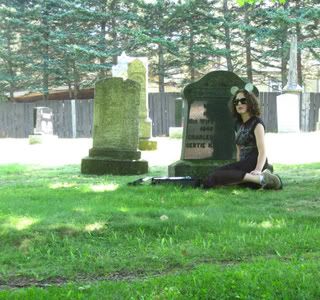 Shirt, Stiches; skirt, thrifted le château; ears, DIY; sunglasses, Rayban; watch, gift; bracelet, gift; shoes, Merrell; bag, local leather worker.
I've been wanting to take some outfit shots in a graveyard for a while, and today it finally worked out. I love this little glade in the middle, so I took my photos there.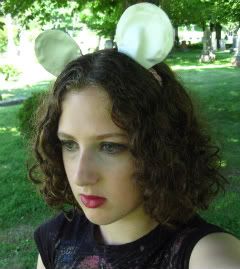 For reference, I wore this while out buying paler concealer in my boring town. You should have seen the looks I got from the rest of the population! One guy yelled nice ears out his car window.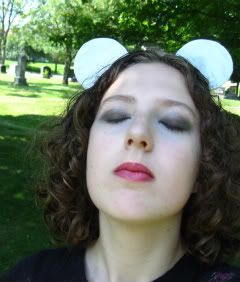 A haze of black eyeshadow, because I was feeling creative, and was a bit bored with my usual eyeliner. I wore similar make up to my soccer game last night, boy did I get weird looks!
My grandmother got me this watch when I got accepted into the International Baccalaureate stream at my school. Thanks Grammy, I love it!
I decided that I was going to do a theme week this week, and my theme is *drumroll* ANIMALS! Hence the ears, and the butterfly bracelet. Please feel free to join in, if you post about, let me know, I would love to see what you come up with.
Thoughts? Requests?
Also, don't forget to follow on Twitter for an assortment of witty/stupid/strange mini doses of Rosie!